Tornado & Storm Damage Repair in Springboro, Beavercreek, & Nearby
When a storm damages your property, our local roofing specialists can take care of all your roof repair or roof replacement needs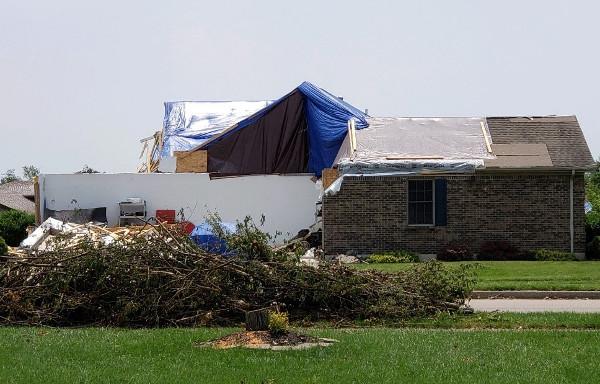 Severe Damage. Tornadoes and other major storms can cause sudden, drastic damage to your roofing system.
Your roof is a vital part of your home that protects it, you, and your family from the elements. Unfortunately, those efforts can take their toll, especially when a major storm passes through. From blown shingles to hail dents, storms can cause serious injuries to your roof that can have lasting, and expensive, repercussions.
Luckily our team is here to help. When a storm ravages your home and roof, Rembrandt Roofing and Restoration can be on the scene quickly to provide thorough and effective roof repairs. Our team has decades of experience repairing roofs like yours and we pride ourselves on always producing exceptional workmanship, using the highest quality materials, and offering the industry's strongest warranties.
As a 2nd generation, family owned and operated business, we also know the importance of working side-by-side with your insurance company and adjuster. Bottom line, we've got you covered through the roof replacement and insurance claim process.
Contact our team today and schedule your free estimate for storm damage roof repairs in Dayton, Springboro, Beavercreek, and Greater Dayton!
Signs of storm damage to your roof
Stains, peeling paint, or mold on the ceiling
Broken, cracked, or dented shingles
Debris on the roof
Curled shingles
Missing shingles
Inspect your roof for storm damage and prevent leaks
Hidden Damage. Hailstones can damage the protective mineral coating on asphalt shingles which decreases their lifespan.
The worst part of storm damage to your roof is the potential for leaks. Leaks are not only irritating, but they can also cause costly damage to your interior if you don't spot them in time. While sometimes the leaks might be visible immediately, other times the damage is practically invisible until it's too late. A storm might cause cracks in the shingles, but the leak only becomes visible months later.
What can you do about this? When a serious storm comes through our area it's imperative that you have your roof inspected immediately, even if you don't think your roof was damaged. Our team has the expertise you need to quickly spot leaks before they cause you costly damage later down the line. The best part? Our team is LOCAL! That means we're reliable, dependable, and accountable to you!
Protect your roof today with a free estimate!
If a storm passed through your community recently and caused potential damage then don't wait for the problem to get worse! Contact the local experts at Rembrandt Roofing and Restoration for the storm damage roof repairs you need to restore your roof to optimal condition. We offer free estimates, with no obligation, in Dayton, Springboro, Beavercreek, and nearby OH!
Looking for a price? Get a no cost, no obligation free estimate.