About Rembrandt Roofing and Restoration
In business since 1995, Rembrandt Roofing and Restoration is a nationally recognized, licensed, and fully insured General Contractor based in Dayton, OH. We specialize in roof repair, roof replacement and siding for residential and commercial properties. We stand out by being an Owens Corning Platinum Preferred Contractor. Through this elite program we are able to offer our customers several warranties and industry-leading products for every job.
As a new customer of Rembrandt Roofing and Restoration, you can expect to be treated professionally and courteously. We pride ourselves on providing exceptional customer service and communication. You can expect our company and employees to be easy to work with. We have the qualifications, credentials, and a great track record for successfully completed jobs!
About the Owner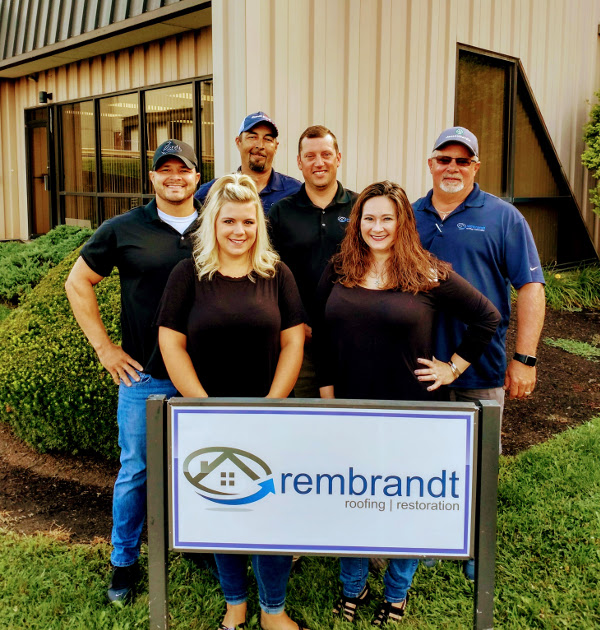 Our Owner. Wade is a proud second-generation owner with a team of experts.
Wade has been in the family business since he was fifteen years old. He started out by working the long summer months while in high school. After graduation, Wade worked his way up in the company founded by his father, Franklin "Bunk" Walker. In an effort to learn the business, he started out by doing anything that he was asked to do. Since becoming a field supervisor in 2001, Wade has held multiple positions in the company, working his way up from sales and storm damage manager in 2005, to VP of Sales in 2012, and now President & Owner as of 2015.
After traveling the country, restoring homes after deadly storms, Wade decided to settle his family in Springboro, Ohio. He is married with three boys and has a passion for his community; enjoys the outdoors and playing all types of sports, especially golf; coaching his son's baseball and lacrosse teams; hanging around the pool with his family and friends; and loves to cook.
Our History
Rembrandt Roofing and Restoration was incorporated by Frank "Bunk" Walker in Houston, TX in 1995 as a full-service repair contractor, specializing in fire and water damage. In the 1980's, numerous hurricanes hit the Texas Gulf Coast and damaged hundreds of thousands of homes and businesses, many of which were of great historical significance. Mr. Walker restored many of these historic buildings along the Gulf coast and on Galveston Island.

In 1995, the sole proprietorship was incorporated and the name Rembrandt Enterprises Inc. was chosen in honor of the historical buildings restored prior to 1995.

In 1998, a major hail storm affected the area north of Dallas, TX, to the Oklahoma state line. Rembrandt Roofing and Restoration dispatched a team to that area and restored over 70 historic homes built in the nineteenth century.

In 2001, Mr. Walker relocated his family and the Rembrandt Roofing and Restoration operation to his hometown of Dayton, OH where it has committed to providing a positive local influence through revitalizing neighborhoods and community outreach.

In 2013, Rembrandt expanded by launching a commercial division. Through the commercial division, we bring over 30 years of expertise and services to local business owners in Dayton, OH.

Rembrandt Roofing and Restoration is now in its 20th year of providing restoration and repair services. To date, Rembrandt is licensed in 23 states and has restored over 15,000 properties from fire, flood, hail, and wind damage. Our goal is always to provide superior customer service and craftsmanship that exceeds manufacturer expectations, while upholding professionalism, integrity, and company reputation as a leader in the construction industry.
Our Mission
Rembrandt Roofing and Restoration strives to grow as a company with a positive future for all, committed to good citizenship, community building and outreach. Rembrandt sees its continuing efforts to revitalize neighborhoods, strengthen local economies, and contribute, in its own small way, to a stronger nation and reduced unemployment as the best means to this end.
Employees that fully adopt our company's policies will have the tools and support to take his or her career to the next level and beyond. Rembrandt believes in career building as well as personal and financial growth for all of its employees that choose to make the most of their employer/employee relationship. Rembrandt's future holds boundless potential, and it is our sincerest wish that this potential is realized to the fullest.